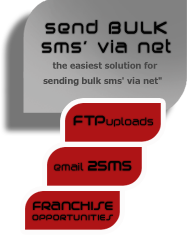 CompSMS is a leading provider of web-based SMS services. We make it possible to send and receive SMS messages to and from most major countries in the world.
SMS text messaging is the most widely used data application on the planet, with 2.4 billion active users, or 74% of all mobile phone subscribers sending and receiving text messages on their phones.
The online application consists of
Addressbook with groups and contacts
Prepared Messages
Personalized Messages
Scheduled Messages
Single Messages
Bulk Messages
FTP Uploads
Email2SMS
The application can be used to
Inform customers of product launches, specials and product-related news
Notify debtors about account balances exceeded or overdue
Provide information services to customers or subscribers
Send time-critical information to a mobile workforce
Send price changes and stock information to clients or sales staff
Inform staff of meetings or schedule appointment reminders
Run campaigns and competitions
We also offer franchises and business partners programs.
SMS unit cost is 0.40 ZAR